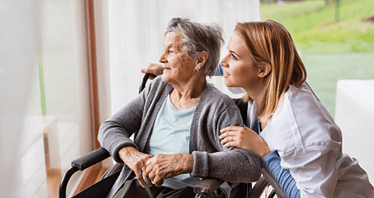 We are always looking for great people to join our team. Forward your resume to
Welcome to Heaven Sent Staffing Solutions, a division of Heaven Sent Home Care, LLC. We are a growing medical staffing business in New Hampshire with an A+ accreditation with the Better Business Bureau. We offer competitive staffing rates which have allowed us to become the fastest growing medical staffing business in New Hampshire.
HEAVEN SENT STAFFING SOLUTIONS FOR FACILITIES
We help facilities find the most qualified candidates who can help them reach their company goals and mission.
If you are looking for qualified candidates who can meet your job requirements, look no further.
If you are a job seeker looking for a career opportunity, look no further.
With our recruitment expertise, extensive candidate pool, unparalleled customer service, low-cost rates, and staffing solutions, we aim to be your staffing agency of choice. At Heaven Sent Staffing Solutions, we will utilize all of our expertise in this industry to deliver comprehensive solutions designed according to your specific needs.
Maintaining a schedule to meet changes in census is demanding. Add in a call-out or a last-minute admission and the strain on your staff increases. At Heaven Sent we help with these challenges by offering a workforce that is flexible and ready to go.
Today, more than ever, there is a tremendous need for medical professionals. Facilities need option and nurses need flexibility. If you are a medical care provider such as a hospital, assisted living facility, rehabilitation hospital, school district, private practice, outpatient clinic or any other facility in need of skilled nursing, please consider Heaven Sent Staffing Solutions as your partner in delivering the quality care your patients deserve!!
Our goal is to provide medical facilities and medical professionals with flexible staffing options. We work with client facilities so they can maximize schedule flexibility at affordable rates.
To support medical facilities in providing quality healthcare services to their residents and patients. We work to provide a flexible workforce solution by having medical professionals available to meet the facilities needs.
Thanks in advance for your consideration of Heaven Sent Staffing Solutions and we would love the opportunity to earn your trust!